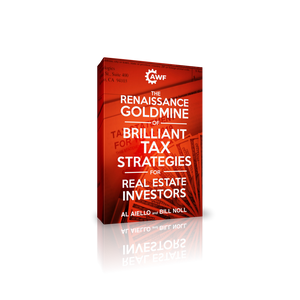 The Goldmine is an easy-to-use software program that will dramatically increase your cash flow with the absolute best tax-saving secrets in the country! The system includes tax-saving strategies for every type of real estate investor and for every type of real estate investing.
 The Goldmine shows you how to implement money-saving strategies with step-by-step instructions using special 
Tax-Reduction & Audit-Proofing forms and strategies.
What's Included:
The Renaissance Goldmine Text Manual.
15 Audio CD's With Complete Tracking and Reference
What you'll learn:
How to aggressively take money-saving deductions without increasing your chances of an IRS audit
How to retroactively save on overlooked deductions that can save you $1,000's
How to legally double and triple your depreciation deductions and save thousands without expending cash!
How to stop overpaying on your taxes simply because you don't know what deductions you're allowed to take... we share them with you!
How to TOTALLY AVOID being a dealer and save thousands!
How to laugh & legally save thousands in taxes, every year (starting this year)!
How to avoid the stress and headaches of costly IRS audits
Simple ways to create HUGE unlimited deductions with NO cash out!
How to sell properties tax-free and keep 100% of your profits!
How to choose the right entity to protect you and your family.  
And much more!
Need more information? Contact us at 281-667-3638