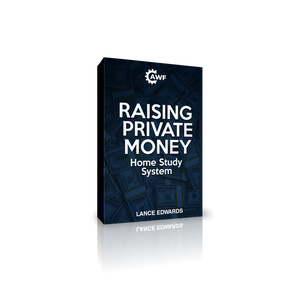 You can easily finance any real estate deal in any market – without any personal cash, credit or experience. Learn how you can become a "Super Money-Magnet" in today's private money market and draw life's richest rewards to you the easy way.
What you'll learn:
This comprehensive Home Study System is divided into eight distinct modules that are designed to give you EVERY tool, tactic and resource that you need to start raising big private money TODAY. It addresses both the skillset and mindset of raising private money for big ticket deals.
Since you can afford to do an unlimited number of deals when you master the skill of raising private money, you can leverage this critical skill to place your real estate business into overdrive - using none of your money – and on a part-time basis, until you are ready to leave your job (which will be soon).
What you'll get:
Lance Edwards' Raising Private Money Home Study System
8 Core Modules
Support Materials, Templates and Scripts
Immediate Online Access
Modules Included:
Why Private Money
Formula for Success
Accessing the Source
Structuring the Deal
50 Creative Applications
Playing in Bounds (with the SEC)
Marketing for Money
Getting It Done
Bonus Module – Ask the Expert
Need more information? Contact us at 281-667-3638