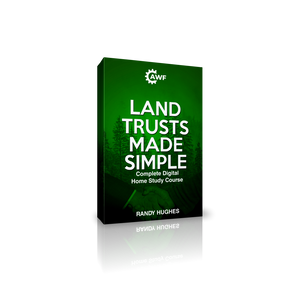 Trusts are the first line of defense to insulate yourself (and your family) from the millions of lawsuits happening every year. Start creating your own trusts today and understand the process. You DO NOT need to be an attorney to form your own trusts.
With this powerful system, you can and will create your own trusts in as little as five minutes. The key here is EDUCATION. You can buy the forms anywhere, but will you know how to use them to your advantage? Randy has been forming land trusts for over 40 years and he will teach you the creative strategies that give these trusts "teeth."
Randy has combined his two most popular products into one product bundle: Land Trusts Made Simple "Basic" home study and Land Trusts Made Simple "Advanced" home study. With this bundle, you will receive both courses, as well as three FREE valuable Land Trust Supplements.
What's Included:
Land Trusts Made Simple Basic Course with Forms
Land Trusts Made Simple Advanced Course With Forms
Bonus: 10 Most Asked Questions About Land Trusts
Bonus: Step By Step Guide To Creating A Land Trust
Bonus: State Land Trust Laws (Just Updated) For All Fifty States
Completely Digital
Need more information? Click here or contact us at 281-667-3638